including 28 songs, 16 first recordings, on texts by
Edward Eager, Vachel Lindsay, Rosemary & Stephen Vincent Benet, Leo Israel,
Langston Hughes, Norman Rosten, Edward Mabley, Miriam Waddington, and Kim Rich
with Helene Williams, Lars Woodul, and
The Metropolitan Philharmonic Chorus
,
conducted from the piano by Leonard Lehrman
Click
here
for contents. Click
here
for texts.
Hearing the CD, Robert Sherman wrote (12/13/08):
I thought I knew ES's folk-oriented output fairly well, but obviously I didn't. This Centennial CD introduced me to well over a dozen pieces, including songs about such American heroes of life and legend as Abraham Lincoln, Nancy Hanks, Paul Bunyan and Johnny Appleseed. There's an absolutely gorgeous "Lazy Afternoon," which apparently preceded the more famous Jerome Moross song by a decade or so, a couple of delectable Irish-flavored theatre pieces, even a  zippy little tribute to E.S. himself by Leonard Lehrman, the pianist on the CD. In short, here's a timely album of varied and eminently worthy discoveries.
The album can be ordered from The Elie Siegmeister Society, for a donation of any amount over $10. Tax-deductible checks should be made out to:
The Prof. Edgar H. Lehrman Memorial Foundation - and mailed to 10 Nob Hill Gate, Roslyn, NY 11576
with the memo: Elie Siegmeister Society



The Elie Siegmeister Centennial CD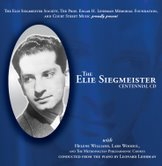 Original Cast CD # OC 6235